Accommodation at Wavecrest
There are 10 bedrooms on 3 floors, 9 of which are en-suite and 1 single has it's own private shower and toilet room attached.
All bedrooms have Freeview flat screen HD Televisions (22" or larger), clock-radio alarms, hair dryers, and unlimited tea/coffee making facilities with fresh milk provided as required.
Your comfort is our priority. We use predominantly cotton linen; duvets and pillows are Duck down & feather. Blankets are available if you prefer, and so are allergy free pillows.
Bedroom Details
Advanced bookings for main season and the 3 Bank Holidays are normally subject to a minimum of 3 nights. Please phone for late availability of 1 and 2 night stays.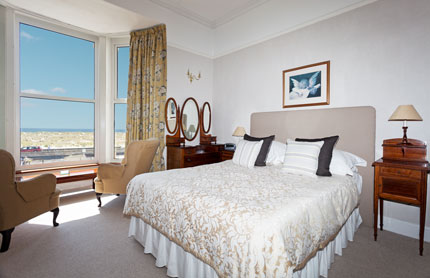 Room 1:
Double en-suite with shower
Room 2:
Double & single bed en-suite with bath
Room 3:
Double en-suite with bath, king-size bed and sea view
Room 4:
Double en-suite with shower
Room 5:
Double en-suite with shower
Room 6:
Double en-suite with shower and sea view
Room 7:
Single room with attached shower room and sea view
Room 8:
Double & single bed en-suite with shower
Room 9:
Double & single bed en-suite with shower and sea view
Room 10:
Single room en-suite with shower and sea view